1

Introduction Shawn Cole (Harvard Business School) Iqbal Dhaliwal (J-PAL) Anja Sautmann (World Bank) Lars Vilhuber (Cornell University)
1.1

The Potential of Administrative Data for Research and Policymaking

Over the course of our careers, we, the editors of this Handbook, have been witness to extraordinary changes in economics and economic research. One of them has been the rise of research in applied microeconomics and development economics that focuses on working closely with policymaking bodies and creating an evidence base for better social programming. Two key factors have contributed to this trend: increased availability of new data sources, and the rapid growth in the use of experiments (randomized control trials or randomized evaluations) in the social sciences. These developments have enabled many new avenues of research, such as how behavioral factors affect optimal policy design, how to credibly evaluate long-run effects of landmark social programs, or how to make changes to these programs informed by a better understanding of the levers of impact. In the process, they have dramatically improved the quality and breadth of evidence used to inform policy.

Yet it is also our experience that this type of research is in many cases conducted by carrying out complex, time-consuming, and costly original data collection: for example, the large-scale surveys that accompany many randomized control trials typically consume a large share of the financial and staff resources devoted to the research project overall. A lack of relevant, reliable, and comprehensive data that researchers can access has been a limiting factor for new studies and consequently the spread of evidence-informed policy.

At the same time, there are a wide variety of data sets already in existence, such as census records, banking data, employment information, or GPS records, which could dramatically reduce the cost and complexity of policy-relevant research – including randomized control trials – and speed up the formation of an evidence base for policymaking. Administrative data, sometimes referred to as organic data (Groves 2011) because they are generated as part of normal business processes, often contain comprehensive, objective data about large populations of interest. Decision-makers at firms and in government are already using such data to better understand problems and issues of populations of interest, and based on such evidence-based analytics, new policies are implemented or new questions are defined.

Beyond these uses, carefully designed systematic research with administrative data, often partnering academic researchers with firms and governments, may carry out analyses, conduct experiments, and develop and field supplemental surveys to test specific mechanisms or hypotheses. This type of innovative research could dramatically expand the types of insights gained from the data. An increasing fraction of published papers in economics uses administrative data (see Figure 1.1, Chetty (2012)). However, researcher access to administrative data sets remains difficult and idiosyncratic (Card et al. 2010). This Handbook is motivated by our view that easier access and an increased use of administrative data sets by researchers could dramatically improve the quantity and quality of available evidence on social programs and policies.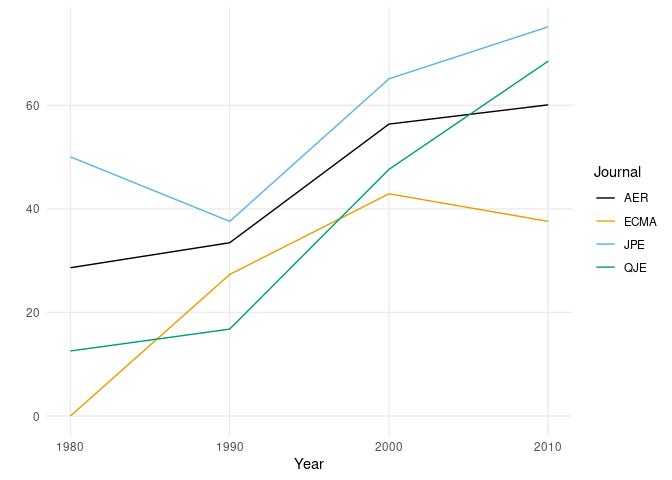 The potential benefits of greater access to administrative data are enormous, as the scope of data held at governments, non-governmental organizations (NGOs), and private firms is increasing rapidly. Digital collection of data at point of origin (as opposed to ex post digitization of administrative forms and reports) is becoming the norm. These data often have useful properties. They can measure certain features objectively, such as distance traveled, price paid, locations visited, or contacts with a system or provider. This can avoid social desirability or recall biases of survey data. Checks and balances like biometric capture of beneficiaries or automatic geotagging can additionally make administrative data more reliable and accurate than self-reported information.
Broad coverage and routine collection as part of day-to-day operations also often make administrative data more representative and may solve an Achilles' heel of many potential surveys and experiments: attrition. The size of administrative data sets can make it possible to run experiments with more treatment arms without loss of statistical power and to detect even effects that are small or heterogeneous between groups.
Finally, completely new types of data open exciting new areas of research, such as GPS, phone, or satellite data. For example, utility billing, cash register scanning, or phone usage data have provided insights into day-to-day behavior at previously unheard-of levels of detail. The large volume of such data also makes them much more amenable to cutting-edge analysis methods like machine learning, allowing for new classes of insight and inference such as artificial intelligence.
Although firms and NGOs are increasingly making data under their control accessible, governments have long been at the forefront of making data available for research. Examples include census data, labor statistics, and national, state, and district-level household and firm surveys. When researchers and governments work closely together to conduct research based on administrative data, uniquely fruitful research-policy partnerships can arise that create opportunities for innovative, policy-relevant research. As an early and particularly impressive example, chapter 16 of this Handbook describes a series of ambitious, nationally representative experiments on the targeting and delivery of social protection programs in Indonesia. This body of work arose out of a decades-long collaboration between academic and World Bank researchers, the national statistical agency of Indonesia, and the Government of Indonesia and had significant influence on Indonesia's policies. These types of partnerships are a promising and important development in social policy research.
Governments, but also NGOs, increasingly see it as part of their mandate to make the information they use for internal programming publicly available. The City of Cape Town articulates this mandate in its Data Strategy by describing administrative data as a "collection of public assets," which should be used to "maximise public benefit" (see chapter 13).
Public data access provides transparency on the information being collected and the programs that use this information. It also enables the broadest possible use of the data in studies on social policies, including by researchers who may not have the resources to collect their own data. In this manner, removing access barriers to data can play an important role in enabling early-career researchers, those working in low-income countries, or those at less well-resourced institutions to engage in ambitious, high-quality scientific work. At the same time, policymakers benefit as well, by having their stored data accessed, cleaned up, and analyzed to provide new insights on key challenges and problems faced by the programs and beneficiaries in their local context.
1.2

Why is the Analysis of Administrative Data Still Relatively Rare?

In light of the tremendous benefits, it is our view that the use of such data for policymaking and research still remains far below its true potential.

Even though most organizations are now collecting administrative digital data, many have no in-house capacity to aggregate and analyze these data before they are overwritten or destroyed after having served their original design purpose. There is often no systematic approach to incorporating data analysis into strategic or operational decision-making. When organizations are analyzing data, it is often for short-term program monitoring, for example through highly aggregated dashboards, rather than carefully designed research. Many data providers, particularly at the sub-national level, are also unfamiliar with the idea of making data available externally, and sometimes lack a clear legal mandate. As a result, these data providers do not have standardized procedures and are often reluctant to share data at all. At the same time, many researchers have little experience interacting with data providers, having trained in the traditional model of collecting original data or using secondary (public-use) data in research. In addition to the challenge of negotiating complex data access agreements, researchers face unfamiliar technical hurdles, such as working with data warehouses.

In individual cases, researchers have negotiated one-off or ongoing access to a wide variety of data, in some cases producing influential policy lessons; but they frequently navigate this process without any systematic guidance. Access is often fragile and may depend on the championship of one individual in the organization. We have also observed organizations with no data use policies and little awareness of the risks of sharing personally identifiable information (PII); in such instances, personal data may unwittingly be exposed to unnecessary risks.

From our own work and that of others, we identify three key challenges for the expanded use of administrative data in research and policy analysis: making the data usable, addressing confidentiality and privacy, and balancing value and costs.
1.2.1

Making Data Usable for Analysis

Many data providers collect data in outmoded files and disconnected databases. The data are often not in formats amenable to systematic data analysis, and data providers interested in research with administrative data would have to commit resources to overhauling their systems and collecting or digitizing key outcomes of interest. They may not readily know what type of staff or consultants to hire, what guidelines to set, and how to manage such staff. Data cleaning and data preparation can be especially complex if the goal is to link administrative data with other sources of information (such as survey data) to better understand the extent of the problem, for effective monitoring, or to conduct experiments.

When data linkage, cleaning, curation, and documentation are not performed by the data provider, they must be done by researchers. This work is typically time-intensive but offers limited professional or personal reward; data curation is not an intrinsic part of funded research and is not usually recognized academically. Upon completion of the research, there is little incentive to share prior data curation work with the data provider or other researchers. This leads to duplication of effort and an increased risk of mistakes. Making data usable can be a significant hurdle even for experts. For example, the authors of chapter 7 estimate that the preparation of a given data set for analysis—de-identification, documentation, and test data preparation—takes between fifteen and sixty days.
1.2.2

Protecting Privacy While Promoting the Accessibility and Utility of Data

The unique value of administrative data for policy-relevant analysis and research is often in the level of detail and the personal relevance of the information the data hold. Sources range from medical records to location tracking to employment history. However, these contents also render the data sensitive and make it particularly important to prevent unauthorized access. The privacy of respondents (individuals, such as patients or job seekers, but also firms, hospitals, doctors, etc.) is therefore a key priority when providing research access to administrative data. Respondents whose data appear in administrative data sets have rarely explicitly consented to participate in academic research, and data collection by government agencies, but also by private companies, frequently does not provide individuals with the option to remove or withhold information.

Protecting such personal information is increasingly required by law, but it is also an ethical obligation. Both when a legal framework exists and in cases in which legislation governing the collection and use of the data is imprecise or even absent,1 data providers therefore typically endeavor to keep the identity and attributes of the individuals, firms, and institutions in the data confidential. When there is no clearly defined process or mandate for providing data for research purposes to individuals outside the immediate set of staff responsible for the data, data providers will justifiably be conservative about whom they entrust with access.

A range of tools are available to protect personal information in administrative data, and these tools are a focus of both the thematic chapters as well as the case studies in this Handbook. However, those mechanisms require expertise to implement, and they also affect how the data can be used. An important instance of this is the editing of data to reduce the chance that a person or computer could identify, or attempt to identify, specific people or attributes of those people. Aggregating, coarsening, or removing personal details in the data are standard tools of statistical disclosure limitation (SDL), but the increase in protection almost always comes at the cost of reducing the data's utility for analysis; in fact, some types of research are only possible when individuals are personally identified. This includes experiments in which different interventions are provided to different groups to assess their effects: it is typically necessary to at least temporarily work with identified data in order to know who received which program or program variant.

Most other security requirements also have the potential to reduce the set of data users either in principle or in practice: data may be protected by requiring access with a specific device, at specific times, or at a unique location such as a secure room; or the data provider may restrict access to certain groups, such as researchers affiliated with an academic institution. The data provider therefore needs to weigh these restrictions against the likelihood of data breaches occurring and the damage that would result, and this can be a challenging exercise. A focus of the many case studies in this Handbook, and a large number of implementations documented elsewhere, is to find feasible solutions that are useful for researchers, sustainable to data providers, and respectful of respondents' privacy.
1.2.3

Value vs. Cost

The processes involved in both making data usable and protecting individuals' privacy can be relatively simple, but may also require significant resources, and it may not always be clear at the outset which it is. Some data providers may perceive risks of making data accessible for research (such as the reputational risk of publications being negatively received by the public or their superiors, or the legal and ethical risk associated with possible data breaches) while not being sure as to what the benefits of research will be and how it will feed back into decision-making. This is compounded by the fact that data providers may not have a full view of how data analysis can improve strategic and operational decision-making or what research is possible; or data providers may attribute low value to the insights that could be generated, perhaps because they do not internalize the generalizable lessons from such research.

Researchers may also not always know how to add value for data providers. Developing dashboards drawing on the data, creating summary statistics or research briefs that give the provider or the general public a sense of the provider's activities, suggesting implementable measures to streamline operations, and generally helping the data provider to assess and showcase the value-added are activities that are not part of the regular skill set of academic researchers.

On the researcher side, significant time and effort may be needed to negotiate and obtain data access when robust and well-documented request and access procedures for administrative data are not yet established. Prominent universities or researchers may be at an advantage (real or perceived) in terms of the resources they can devote to this work. The investment may discourage some potential users, including those from low-income countries. Successful data access mechanisms must be able to address all these points: provide value to both data providers and researchers, commit resources to policy-relevant analysis and to translating research insights into actionable recommendations, and deliver fast and streamlined data access and use.

Another salient feature of administrative data access is that the costs are frontloaded. Once a data set has been cleaned and curated, the data are readily available for use in any number of research projects. Similarly, establishing data access procedures can be a costly and time-intensive process, including finding solutions for privacy issues, creating buy-in from all stakeholders, and defining and formulating responsibilities, conventions, and rules. However, this initial investment could enable much faster access requests in the future. The cost hurdle is in many cases too high to overcome for a single researcher or a single research project even if the continued use of the data would justify this cost. Two possible solutions are either to distribute the costs among several research teams who will get access to the data, or to dedicate resources at the data provider to covering the initial fixed costs of creating access and overcoming capacity bottlenecks.
1.3

This Handbook

While the questions outlined above are challenging, many institutions have developed effective and replicable solutions to share administrative data with researchers. These institutions have made data usable and put data security measures and privacy policies in place in a manner that created long-term value for both data providers and researchers. The Handbook draws inspiration from these successes.

To date, much of the existing literature has focused on high-level considerations and the restricted-access data landscape (Harron et al. 2017) but has very little practical information. In particular, there is a lack of tangible, concrete advice for sub-national organizations that wish to make confidential administrative microdata accessible in a responsible fashion, even though researchers, governments, NGOs, and private firms have consistently expressed interest in learning from experiences around the world. There are gaps on a range of topics: drafting data use agreements, cleaning and linking data sets, implementing secure computer systems and managing the data infrastructure, designing an application workflow for granting access to multiple researchers, analyzing data for decision-making, and facilitating collaborations between researchers and data providers.

With this Handbook, we aim to close these gaps and to provide researchers and data providers with guidance on best practices in legal and technical areas; and perhaps just as importantly, we hope to furnish a set of compelling examples of success that can serve as inspiration for others. We believe that the practical and actionable lessons from these cases can provide valuable information to other institutions, data providers, and researchers on how to securely and easily share, access, and analyze administrative data. Additionally, as mentioned at the beginning of this introduction, we see an incredible opportunity in combining the use of administrative data with field experiments and supplemental survey data, something which to date is relatively rare and for which almost no guidance exists. Several chapters in this Handbook therefore make explicit reference to this goal. We hope that this will inspire innovative experiments based on administrative data that will generate insights on the impact of policies and programs worldwide.

The first section of the Handbook consists of in-depth and practical thematic chapters on technical and legal issues surrounding administrative data access. The second section provides structured case studies of different data access mechanisms and research projects that illustrate how to succeed in a wide variety of legal and technical environments. We here briefly describe each of them.
1.4

Further Reading

For topics beyond the scope of this Handbook, we refer readers to a number of excellent starting points on a range of topics: the various challenges of making data available securely (see f.i. Reuter and Museux 2010; Harron et al. 2017; ADRF Network 2018; Future of Privacy Forum 2017); resources on data held by national statistical offices (NSO) and the initial creation of integrated data systems, including (in the US) work by Actionable Intelligence for Social Policy (AISP); and guides for the European context, which include case studies of national statistical agencies (OECD 2014; Bujnowska 2019).

The existing literature also provides high-level guidance on numerous topics, including the following: methods to transparently select and authorize access applications at scale and to evaluate whether researchers are trustworthy (for a new approach, see Levenstein, Tyler, and Davidson Bleckman (2018)); data use agreements that fit within the broader legal framework (some limited guidance provided by Kanous and Brock 2015; Kuchinke et al. 2016; Alter and Gonzalez 2018); access modalities such as providing a secure computing infrastructure with local or remote access (Weinberg et al. 2007; Vilhuber 2013, 2017); tools to apply statistical disclosure limitation to the output of analysis conducted using the organization's data (F. Liu 2020a; Dupriez and Boyko 2010a; G. T. Duncan, Elliot, and Salazar-González 2011a); complementary data publication mechanisms such as public-use or scientific-use data (Bujnowska 2019); and how to publish information on and access modalities for confidential data (John M. Abowd, Vilhuber, and Block 2012).
References
---
Notable examples in which privacy is only minimally protected includes information about the employees of the United States federal government or property tax records in many US counties.↩︎

The Five Safes framework is broadly and internationally used as a guiding principle by national statistical agencies (Australian Bureau of Statistics 2017; Statistics Canada 2018b) and provinces and individual agencies (see e.g., Province of British Columbia, BC Ministry of Citizens Services (n.d.)). Altman et al. (2015) suggest an alternative framing.↩︎